How Technology Helps Improve Field Engagement
Flexibility, communication, and convenience: those are three reasons that field service technicians can benefit from the use of industry-leading technology from a service provider. Leading-edge technology can help business owners streamline their operations, but there are substantial benefits for customers and your business profitability, too.
Today, we're looking at why technology helps improve field service engagement and the specific ways that a platform like FieldConnect can do this.
Accessible From Any Device
Cloud-based field service technology can be access from anywhere, anytime, on any supported device. Providing your field service technicians with a company tablet gives them ready access to pricing for additional parts and services and a scheduling module allowing them to book a client's next service date.
Many software systems also have a fleet service management tool, which can help your techs quickly communicate if their company vehicle breaks down, or even with automatic accident alerts, in the event they're unable to communicate.
Immediate Communication Between Field Techs and Management
Playing "telephone tag" with the home office is a source of endless frustration for many service technicians. Using field service technology, automating communications, or giving techs access to the information they need reduces employee frustration.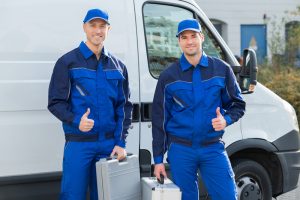 Communicating with one another quickly can easily streamline overall efficiency in any type of service industry. Beyond routine questions, techs can also upload photos of unusual circumstances or situations for management, which can help newer employees be more effective in the field. All-on-one communication platforms can seamlessly go from a text to sharing a photo or video, followed up by a phone call to discuss the situation.
The easier it is for field service technicians and their managers or home office support staff to communicate, the more often and effectively they'll do so. Managers should be checking in frequently with service techs, ensuring they have the tools they need to do their job, and following up with the more difficult jobs on their route. Giving your field management team a great way to communicate with the techs strengthens the relationships and results in higher employee retention and job satisfaction.
Group messaging is another way to provide updates for your team quickly. For example, giving a heads up about inclement weather that can affect their ability to complete outside work and what options techs have in these situations can help them proactively serve the client.
Not every technician will be an expert at every brand and model. Through group messaging apps, your techs can communicate quickly with one another, too, allowing more experienced techs to help the newer ones with questions that come up. Creating an environment of teamwork and mentorship, even when your team largely works independently, results in a more cohesive workplace.
On-Site Customer Service
Field service technology helps your techs provide more comprehensive service for clients. Using the platform, a technician can review the service history, including preferences such as knocking versus ringing the bell or whether there are pets or small children to be aware of. In fact, 54% of service techs would prefer a pre-visit review of a client's service history. Techs can also review past service calls and notes about the equipment they will be working on. Your techs can give more personalized service with a more in-depth awareness of the client and the service environment.
Another way that field service technology can improve your customer service is through artificial-intelligence-based predictive technology. In fact, one of the top field service trends of 2021 is predictive and proactive maintenance. This tool gives your service technicians an idea of when your customer will need a particular part replaced or the right preventative maintenance schedule based on the unit's use. By tracking the service parameters of each client through IoT, your field service techs can proactively inform your clients about upcoming needs and book the appointment right then.
Facilitate Emergency or Secondary Job Requests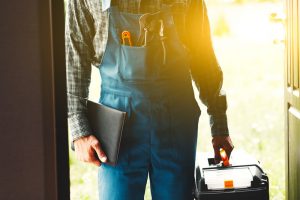 If your business offers emergency services, a more flexible scheduling tool can help you accommodate these, whether after-hours or in the middle of a regular business day. Your dispatch team can look at which tech is closest to the emergency request or which one is readily available and immediately assign the individual to the call. Then, dispatch can rearrange other jobs and technicians to accommodate the emergency and quickly communicate with the techs and affected clients using the scheduling module.
Often, a technician may find your clients need additional work beyond the scope of the initial job, such as finding additional pieces of a unit that need to be repaired or that a client may need additional services for pest control. Using field service technology, techs can check the inventory for the right parts and generate a quote on the spot for the client. This reduces repeat visits and improves proactive customer service.
Choose the Right Field Service Technology
Did you know that about 75% of field service businesses that utilize mobility tools have observed increased employee productivity, while the rest have seen customer satisfaction rates rise? At FieldConnect, we're leaders in the field technology industry, embracing cloud-based communications for businesses from single owner-operated to enterprise companies with branches across the country. Our scalable software and user-intuitive technology allow business owners to oversee all aspects of their service business, from scheduling jobs to accounting and invoicing and customer service and marketing to inventory management.