TOP-RATED FIELD SERVICE MANAGEMENT SOFTWARE
The Complete Mobile Field Service Solution
FieldConnect is a full suite of features built for field service companies by experts with over twenty years of experience. Our software unifies your technicians, dispatchers, back-office, and all staff under one, fully customizable solution. Ditch paper records and go digital today.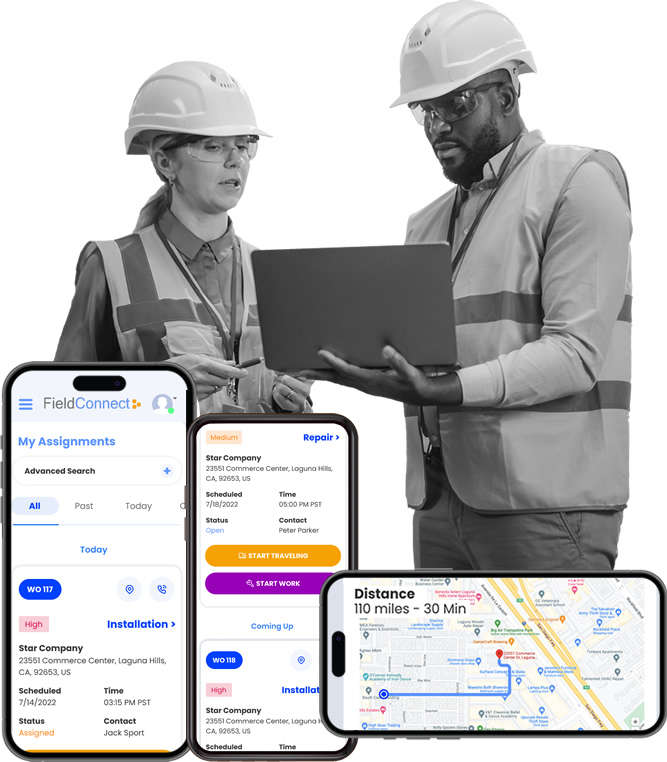 FIELDCONNECT IS TRUSTED BY MANY INDUSTRY LEADERS


EASY-TO-USE, ON-THE-GO SOLUTION
Mobile Technician Platform
Whether you provide you technicians with laptops, tablets, or mobile devices, FieldConnect works on any device. Techs can clock in to start their day, view their open work orders in list format, and work with dispatchers on their priorities directly within the app.
LIVE, REAL-TIME ERP DATA SYNC
Data Instantly Saved to ERP
Reduce errors, improve accuracy, and save time. FieldConnect can save and sync information directly with your ERP in real-time. Technicians do not have to manually enter the same information into multiple systems or worry about discrepancies between different sets of data.
OFFLINE MODE / REMOTE LOCATION
Work Anywhere, Anytime
Minimize disruptions and ensure that work is completed on time and to your company's high standards with FieldConnect's offline mode. Ensure that techs continue to save progress and notate work progress even when they are not connected to the internet.

"FieldConnect stuck out as the [field service] solution that made the most sense in our unique situation."
Mandy Gathright
Contracts Administrator

"I was spending 20 hours to shepherd the integration updating process during each cycle…"
Steve Bolton
Business Systems Analyst

"…our technicians receive work order details on their mobile devices through FieldAcccess (FieldConnect)."
James Craft
Owner & Operator