FIELDCONNECT INDUSTRIES
Security Systems Software
FieldConnect empowers your security service technicians to excel and meet customer expectations with professionalism and expertise. Our solutions establish real-time connectivity between remote service technicians and your back office support team, revolutionizing the way you provide service in the digital era.
SECURITY SERVICE MANAGEMENT SOFTWARE
Management Software For Security Systems Service Companies
Security Systems service technicians use FieldConnect and their digital devices to order services, parts and attach photos for the record. The solution enables technicians to create quotes for future work and take payments. They can update customer accounts on-site and in real-time. FieldConnect is easy to learn and implement, so your experienced field staff will become FieldConnect's most enthusiastic advocates. FieldConnect's online portal fosters transparency and convenience for your customers, allowing them to monitor order statuses, schedule service appointments, and address billing inquiries without disrupting your back office staff's workflow.
Staying Ahead of the Competition with FieldConnect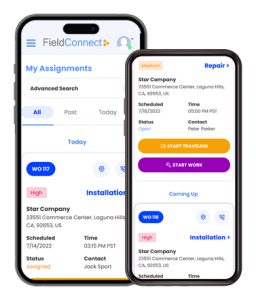 The Security Systems domain has experienced remarkable growth and transformation for technicians, incorporating some of the most notable innovations and advancements across various industries. The responsibilities and training of technicians have evolved in tandem with this technological revolution and industry progress.
Staying at the forefront of these developments is crucial for maintaining success.
Field technicians in the security systems sector have transcended the traditional tasks of installing door contacts, motion detectors, and other standard security features. Modern security systems have become increasingly sophisticated, driven by network-based technology that encompasses advanced video, access, intrusion, home automation, and life-safety systems. Mobile applications now fuel many of these innovations, broadening the technician's role into a hybrid blend of skilled craftsman and IT specialist.
Automation, artificial intelligence, smart building, and home integrations present both challenges and opportunities for companies delivering mobile field services for security systems. In both commercial and residential markets, the swift evolution of digital systems is reshaping the way services are provided. This landscape leaves little room for leniency toward outdated field service practices.
Specific Challenges For Security Systems' Service Teams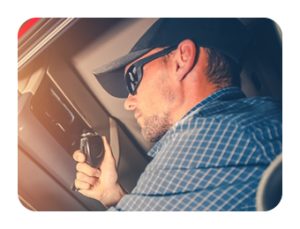 Numerous challenges confronting security systems teams and technicians stem from the rapid advancement of technological resources. These innovations have significant implications for other aspects of the industry as well.
Customers' expectations and interests evolve alongside technology, and technicians must adapt to satisfy these growing demands. Modern consumers seek intelligent security systems that prioritize interconnectivity and mobility, enabling remote access 24/7 and seamless integration with other wireless devices in their homes.
Market analyses reveal that customer loyalty has diminished, and their preferences have become more unpredictable as the range of available security solutions expands. Consequently, streamlining the customer experience while offering cutting-edge service solutions has become essential.
Customers' interests also influence the scope of services provided by field technicians. Security systems technicians now require a more diverse and sophisticated skill set, including customer service skills for clear and consistent communication regarding their services.
FieldConnect Solutions For Security Systems
The need for advanced and dynamic skill sets poses challenges for management in the security systems industry. Continual and specialized training is necessary to keep up with advancing technologies and market demands. Moreover, attracting the right technicians for the job can be challenging. Demonstrating a company's commitment to technology is crucial in attracting qualified employees to a field service organization.
Traditional security systems providers must not only continuously improve their services but also differentiate themselves from competitors. This differentiation is particularly crucial for newcomers to the security systems field service industry, necessitating the adoption of integrated approaches that enhance security automation solutions and stand out among the competition.
As security becomes more entwined with building operations and control, technology must adapt to remain relevant. For example, there is no longer a place for paper-based work orders and timesheets. Security systems technicians must manage a wide range of alarms and inventory, with the industry demanding swift response times and meticulous record-keeping.
Field service in the security systems industry is evolving beyond its traditional boundaries to accommodate a connected world. If your field service division has been using the same outdated solution for years, the prospect of retraining and adopting new software may seem daunting. However, embracing this challenge offers the potential for sustaining and growing your business.