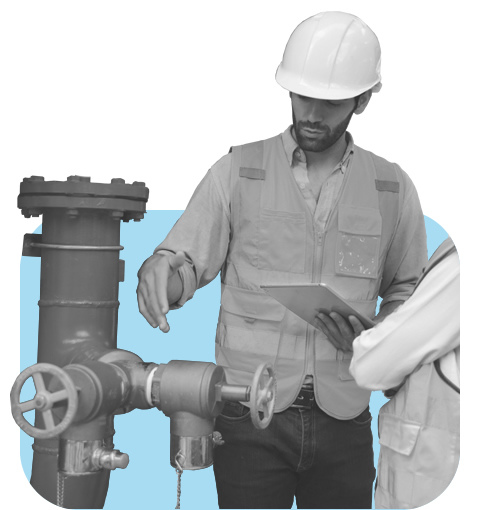 FIELDCONNECT INDUSTRIES
Fire & Life Safety Services Software
FieldConnect provides flexible mobile field service solutions that connect Fire and Life Safety technicians to the necessary resources in real-time. Techs can order parts, update accounts, and attach photos of site and equipment conditions onsite. Custom reporting forms facilitate automated compliance reporting in the field to easily cover all regulatory requirements.
FIELD SERVICE MANAGEMENT & JOB SCHEDULING
Fire and Life Safety Service Management Software
Fire and Life Safety service technicians use FieldConnect installed on their digital devices to order service, parts, and equipment. They do the job and update records quickly and get it right the first time. They can take payments and deliver customer service during a site visit. FieldConnect is easy to learn and implement, so your experienced inspectors and technicians will become enthusiastic advocates for delivering field service through their digital devices.
FieldConnect Helps With the Compliance and Regulatory Concerns Of The Industry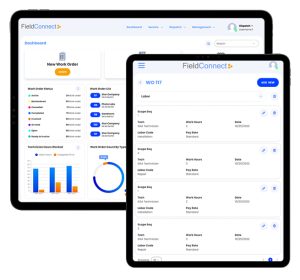 The Commercial Equipment Service and Repair industry has witnessed significant annual growth in recent years. Estimates indicate that the industry has expanded at an impressive rate of 5% per annum, with revenue figures approaching $40 billion. This consistent growth and substantial value present considerable opportunities for companies engaged in servicing and repairing commercial equipment.
Ensuring your business is equipped with the appropriate resources to support technicians and streamline operations is crucial for capitalizing on the immense potential of this industry. Servicing and repairing commercial equipment necessitate extensive skills and expertise from technicians. However, many opportunities can be missed if these sought-after technicians are not backed by proper management, resources, and information. With over 20,000 companies operating in more than 23,000 locations across the US, the service and repair of commercial equipment represent a lucrative but fiercely competitive market.
Securing and retaining the most skilled and proficient technicians is vital for maintaining a competitive advantage in this industry. Service and repair operations function more seamlessly with real-time connectivity and precise information. This industry relies on the core competencies of field service businesses. The daily tasks of technicians in this market are expedited with field service management solutions. Furthermore, the customer experience is significantly enhanced by implementing digital solutions that deliver accurate, error-free information when and where it is needed.
Specific Challenges For Fire And Life Safety Field Service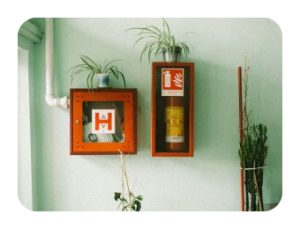 Fire and Life Safety field service technicians often do not receive the recognition or visibility that their critical responsibilities warrant, as they confront numerous challenges in order to fulfill their duties effectively.
Regulatory standards present intricate challenges for Fire and Life Safety technicians. Building codes and other regulations governing minimum safety standards apply to various types of structures and properties. Regrettably, many building and property owners are either unaware of the pertinent codes and regulations or choose to disregard them. Technicians must be capable of generating and accessing diverse sets of information on demand, enabling them to clearly comprehend and communicate the necessary and governing safety standards with owners of all types of buildings and properties.
Fire and Life Safety professionals encounter regulations at local, county, state, and federal levels. Their inventory encompasses alarms and other equipment that must function reliably and adhere to code. All equipment must be installed, maintained, and inspected to ensure compliance and provide essential protection to lives and property.
Challenging work environments persist as a constant hurdle. Frequently, technicians must navigate harsh and rugged conditions to accurately assess a building or property for potential fire or life safety threats. Often, the job involves evaluating and predicting dangers before they transpire. Work environments may also involve evaluating highly complex safety systems. The dynamics associated with these scenarios rely on precise, timely, and accessible data. A technician needs the ability to recall and record comprehensive information to execute their high-stakes job effectively.
Providing solutions, rather than merely diagnosing problems, is an integral aspect of the Fire and Life Safety technician's role. This necessitates a profound understanding of the field, which depends on mobile and rapid access to data. Technicians are expected to not only identify and report on safety issues but also offer solutions that bring property owners into compliance with standards.
The Internet of Things (IoT) encompasses a network of appliances, meters, sensors, and other devices capable of sending and receiving data, often governing areas such as energy, equipment, environmental quality, or people and spaces. Building automation and IoT-connected devices are not intended to replace technicians or managers; rather, they empower teams to monitor performance and potential issues that would be challenging to assess through conventional management methods.
Dynamic compliance environments and the implementation of IoT-connected equipment ensure continuous changes at an accelerated pace. Field service providers relying on outdated work order processes will inevitably fall behind their competitors. The numerous competitive advantages offered by digital solutions in field service can no longer be ignored.
Enable your entire organization with FieldConnect.