Scheduling & Management Software for Electricians
Improve Response Time & Client Satisfaction
Electrical services are at the core of our most vital resources. Technicians in the electrical service industry contribute to the safeguarding of economies, transportation, information, communication, media, hospitals, and a host of other frontline resources that undergird a community's safety and health.
Customers in the electrical service industry expect and require outstanding work on short notice. Every minute counts. Delays in repair can be costly for your client. Each minute a repair goes without service, it results in a loss of money. For all the time an electrical system is offline, the client stands to lose critical revenue. And the communities these clients serve stand to be without necessary services.
The provisions electrical service technicians provide are essential. And these services require the most advanced and reliable resources. Technicians need a field service solution that is easy to learn and gets the job done. A solution that will empower technicians to restore service, order components, and quote additional work on-site while delivering exceptional customer experiences.
Changes that Electrical Service Providers Face
Electrical service technicians provide a critical resource that must respond to an array of changes and demands facing an ever-evolving industry.
Capturing accurate and timely information is one of these pressing challenges. Data must be monitored and transmitted as reliably and efficiently as possible to ensure fast responses. The transmission of this data manually has posed a particular challenge to providing expedient service. And the accuracy of this data has often been diminished by costly errors and avoidable mistakes.
Customer response is also of paramount interest to the field of electrical services. The customer is a central resource for the communication of issues and the service's efficacy that responds to those issues. Equipping a customer with the tools to communicate quickly and clearly permits field service technicians to offer the right resources for first time repairs, and it assists in mitigating further issues with service.
In-field communication cannot be understated for electrical field service technicians. Real-time communication is now a necessity. And a diversity of communication techniques will empower management, technicians, and customers. Management needs to be equipped to offer direction on changes to service or appointments, and technicians require the ability to communicate on their resources needed or the evolving nature of their service.
Tracking and monitoring is also a core principle to efficient and productive electrical field service providers. Various points of innovation have evolved to offer the chance to track technicians and service in the field. This presents real-time information for management and customers, providing a sense of security and transparency on the services being provided.
At the top of any list of priorities for electrical field service providers is mobility. Providers need mobile field service solutions that work anywhere, regardless of wireless network connectivity. Technicians must be capable of responding to power supply outages quickly and maximize first-time fix rates for customers.
The power supply industry is a quickly growing and expanding industry. New technologies are impacting how electrical monitoring is being executed. Fluctuations to infrastructure are influencing the breadth and strategy needed for electrical service providers. And key initiatives, like net-zero energy, are transforming power supply and storage. Each of these changes presents new risks and challenges to downtime that require an innovative and intuitive response by electrical field service providers.
FieldConnect Software Solutions For Electricians
The right solution is the one that minimizes downtime and delivers the highest first-time fix rates. Mobile field service technicians equipped with a digital device and FieldConnect can conduct servicing and update accounts in real-time. They can respond to outages anytime and anywhere—with or without a wireless signal.
Produce timely and detailed service reports
Visibility into the history of onsite installation, repair, maintenance, and test tasks
Document processes
Tie workflow to schedule
Technicians using FieldConnect can quote additional services and take payments on their digital devices, order parts, and deliver customer service while on site. FieldConnect is easy to learn and implement, so experienced technicians often become its most enthusiastic advocates.
The Frictionless Customer Journey For Field Service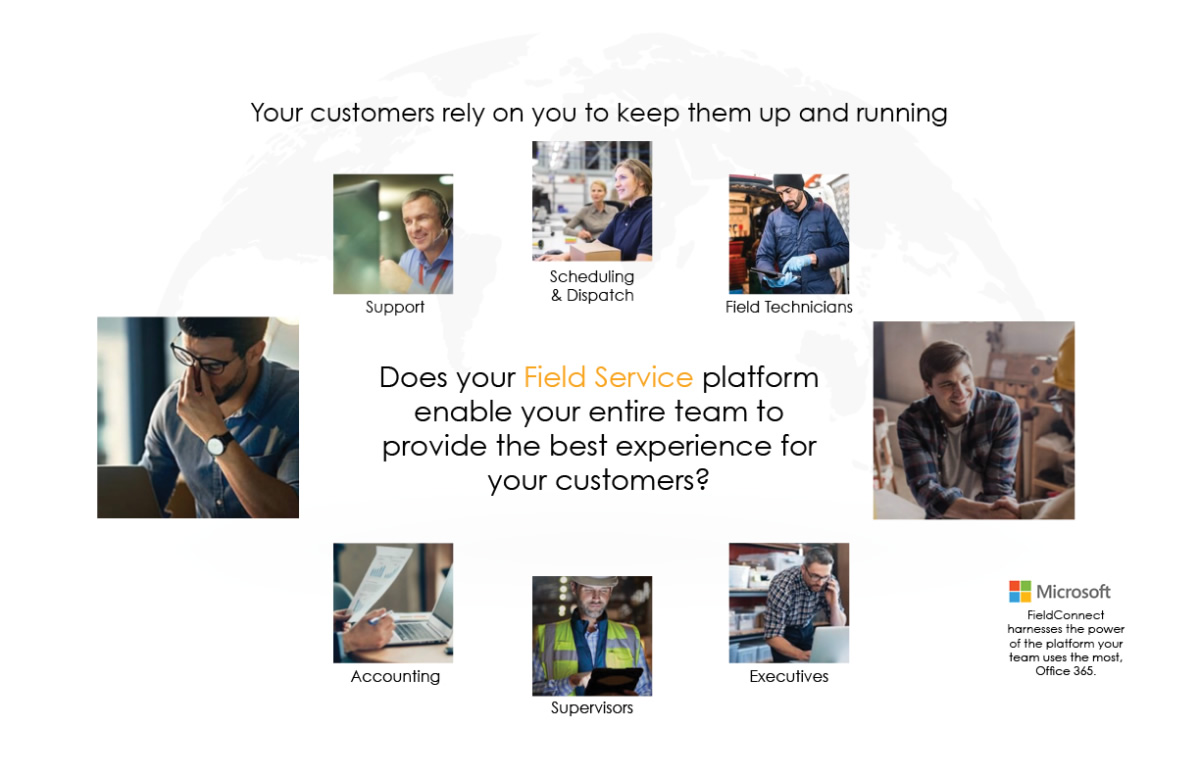 Commercial Equipment Tech Software Features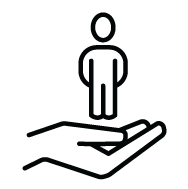 Schedule & Dispatch
Validate technician time-on-site with GPS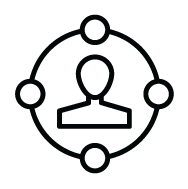 Customer Portal
Online customer portal with easy support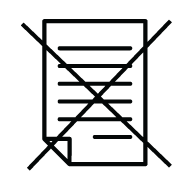 Eliminate Paper/Attach Files/Forms
No more manual time cards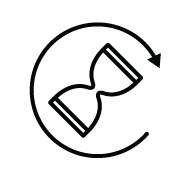 Track Time
Track billable hours to the minute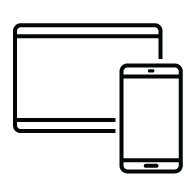 Use Any Device/Easy to Use
Works with any mobile and desktop devices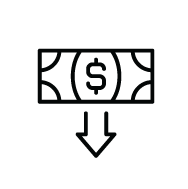 Get Paid Faster/Invoicing on-Demand
The Frictionless Customer Journey For Field Service
Frequently Asked Questions
We provide field services in a regulated industry with demanding compliance standards, can FieldConnect help?
FieldConnect enables your technicians to capture equipment, safety, compliance data through custom forms. A solution from FieldConnect automates how you handle compliance so you can meet and exceed all of your business and regulatory requirements.
In the Electrical Industry, clients expect prompt results, they want to know the status of their work orders and to be greeted by name when the technicians arrive. How does FieldConnect meet these demanding expectations?
FieldConnect manages the entire field service workflow, from initial bookings and dispatch, to service delivery and follow-up. Technicians receive everything they need to know about the customers wirelessly and quickly, including names and account histories. Customers can follow the progress of their appointments online with the FieldConnect customer portal.
Can technicians update customer information or add documents to accounts?
With FieldConnect, your technicians can easily attach documents and photos to a service call while on site and in real time, which improves the customer experience, builds trust, and accelerates the billing cycle.
Can technicians quote new work with FieldConnect?
Real-time connectivity allows your technicians to create accurate quotes from inventory stock levels and pricing, while they are still with the customer.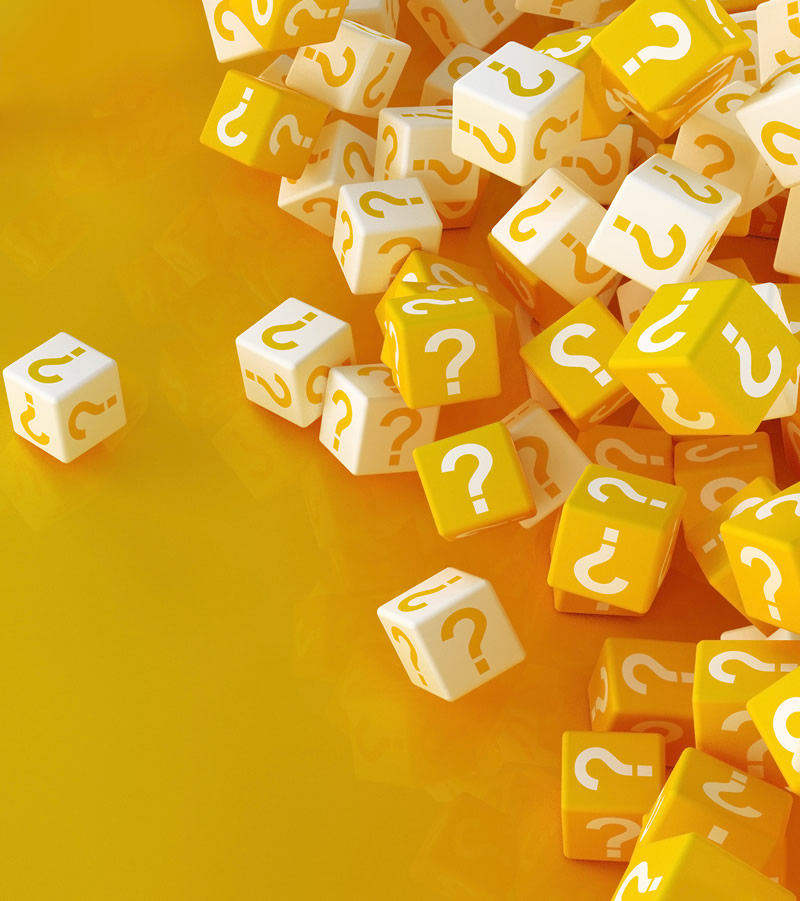 Want To Know More? Let's Talk.
Take the next step and find out how FieldConnect accelerates a field service businesses like yours. Contact FieldConnect to schedule a demo or find out how our solutions bring new operational efficiencies, lower costs, and better outcomes.