Management Software for Commercial Equipment Repair Service Providers
Help Your Technicians While Helping Your Business
The Commercial Equipment Service and Repair industry has experienced remarkable annual growth in recent years. Estimates report that the industry has grown at a staggering 5% annually with a revenue value nearing $40 billion. With consistent growth and high value, there is a significant opportunity for companies that service and repair commercial equipment.
Equipping your business with the proper resources to support technicians and refine business operations is critical to taking advantage of this industry's immense opportunity. Servicing and repairing commercial equipment requires in-depth skills and knowledge from technicians. But many options can be lost if these in-demand technicians are not supported with the proper management, resources, and information. With more than 20,000 companies in over 23,000 locations across the US, the service and repair of commercial equipment is a lucrative but competitive market.
Attracting and maintaining the most skilled and proficient technicians is paramount to keeping a competitive edge in this industry. Service and repair operations run more smoothly when you have real-time connectivity and accurate information. This industry draws upon the core capabilities of field service businesses. The daily tasks of technicians in this market progress more efficiently with field service management solutions. Customer experience also improves dramatically with a digital solution that delivers error-free information where it is needed.
Specific Challenges For Commercial Equipment Service And Repair
The industry for servicing and repairing commercial equipment faces the many new challenges that come with a modernizing market.
One of these core tasks is finding and maintaining skilled and knowledgeable technicians. Turnover of skilled labor poses many risks to revenue and growth in a competitive market. Once technicians are onboarded and trained, they require the proper resources to afford them fluid and successful opportunity to perform their job. Prioritizing the experience and success of each technician is critical to maintaining loyal and reliable technicians.
Productivity in highly competitive markets is also tantamount to success in the industry. Finding ways to improve efficiency and ensure smooth operations is necessary for companies that service and repair commercial equipment. An increase in efficiency results in increased turnaround times and heightened productivity for all operations.
Frictionless data sharing is the key to efficient operations for commercial equipment service providers. The diversity of equipment your field service technicians encounter can be demanding. Challenges can include tracking inventory and parts ordering. There can also be difficulties with dispatch scheduling or keeping repair and maintenance histories. Locating equipment scheduled for service or repair is also critical to operations.
Each of these challenges poses a risk to the customer experience. And the customer's expectations are rising. Amidst the remarkable competition in the service and repair industry, a customer's satisfaction is of chief priority for success. Customers can easily experience frustration and dissatisfaction due to unclear service and repair status. This status is a principal concern for the equipment that they depend on for production and operations.
Servicing and repairing commercial equipment also faces many challenges with compliance. Improper management of these compliance requirements can take a devastating toll on any business in the industry. EPA compliance forms for materials such as refrigerants add another layer of complexity and paperwork. The risk and cost of service errors and work duplication add a burden to field service providers that inevitably get carried over to customers in cost and delays.
Solutions for Commercial Equipment Technicians
With FieldConnect, you have solutions that transform your outside service operations. We connect your mobile field service technicians into your company information systems. FieldConnect integrates every stage of the field service workflow while our online service portal keeps your customers in the loop. They can check the status of orders, book service appointments, and answer billing questions without distracting your back office staff.
Commercial Equipment field service technicians use FieldConnect and their digital devices to review assignments, order parts, document services, and update account history on site. The back office receives the data and automatically updates billing information in real-time. Techs can attach photos to document the equipment and its location for the record. FieldConnect is easy to learn and implement, so your experienced field staff will become FieldConnect's most enthusiastic advocates.
The Frictionless Customer Journey For Field Service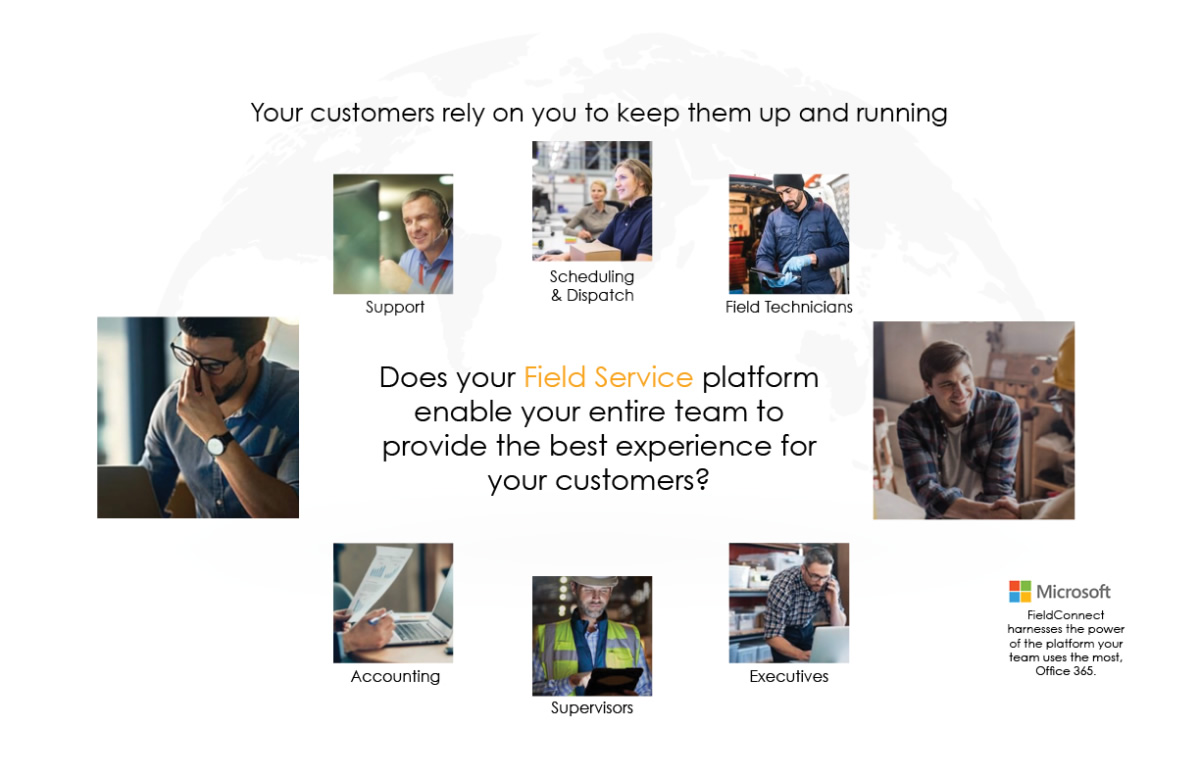 Commercial Equipment Tech Software Features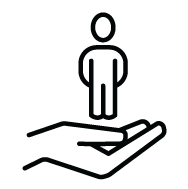 Schedule & Dispatch
Validate technician time-on-site with GPS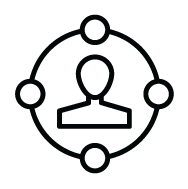 Customer Portal
Online customer portal with easy support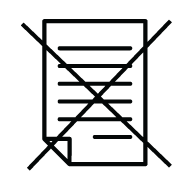 Eliminate Paper/Attach Files/Forms
No more manual time cards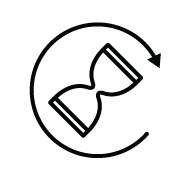 Track Time
Track billable hours to the minute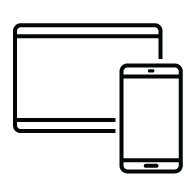 Use Any Device/Easy to Use
Works with any mobile and desktop devices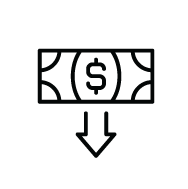 Get Paid Faster/Invoicing on-Demand
The Frictionless Customer Journey For Field Service
Frequently Asked Questions
Can technicians see customer accounts and histories, or do they have to call the office?
FieldConnect gives technicians visibility into a customer's site and equipment history, allowing them to work more efficiently and ensuring they have the right tools and parts for the job, improving first-time fix rates.
Can technicians update customer information or add documents to accounts?
With FieldConnect, your technicians can easily attach documents and photos to a service call while on site and in real time, which improves the customer experience, builds trust, and accelerates the billing cycle.
Can FieldConnect keep track of my service technicians on the road?
FieldConnect uses GPS data to monitor technician location, and validate history against service calls to eliminate billing disputes, monitor productivity, and ensure efficient dispatching.
Can I use FieldConnect to automate my service and improve the customer experience?
With the FieldConnect customer portal, your customers can check their real-time status information about appointments and billing, all without creating extra work for your back office team. They have more independence, which gives them improved satisfaction, builds trust, and delays due to billing disputes.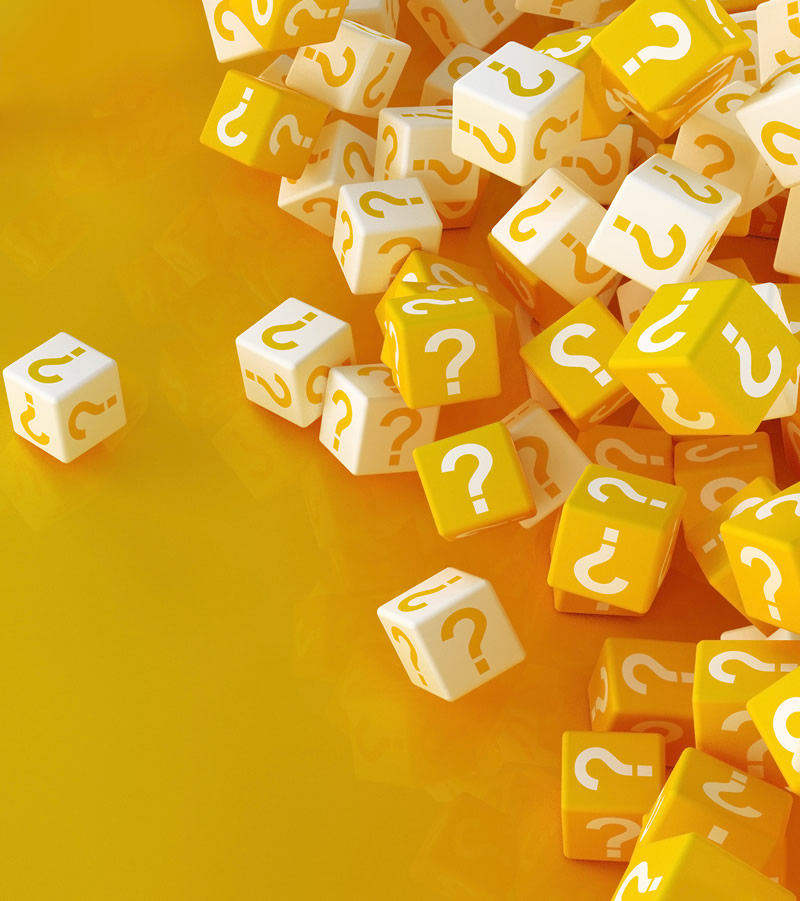 Want To Know More? Let's Talk.
Take the next step and find out how FieldConnect accelerates a field service businesses like yours. Contact FieldConnect to schedule a demo or find out how our solutions bring new operational efficiencies, lower costs, and better outcomes.