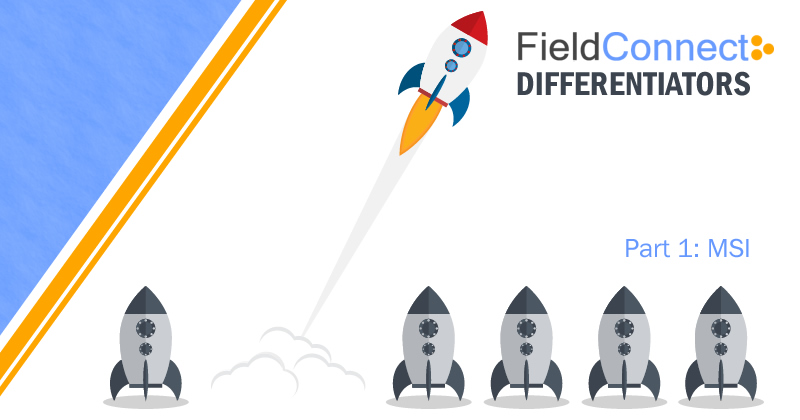 FieldConnect Differentiators – Part 1: MSI
Experience the Difference with FieldConnect
FieldConnect stands out amidst the competitors because we think differently. Our solutions are distinct from the field service resources you have known. We have years of experience and dedication to providing the most innovative software solutions. The list of features and benefits sets us apart from companies like MSI Data.
But we prefer to let the facts speak for themselves. Below is a long list of features and functionality that give you a clear understanding of the distinction you can expect from FieldConnect. You will find that we are genuinely a one-of-kind set of solutions for field service management.
Our mobile integrated applications offer you the freedom to stay ahead of the game and maintain consistent efficiency. Native and seamless integration with your legacy systems ensures continuity and expansion of your current operations. You will experience the freedom to use a variety of devices, hardware platforms, and operating systems. There's no need to worry about the cost of new equipment. Amongst many other features that set us apart, you'll gain access to the power of cloud-based technologies—at no additional charge.
Explore the difference with FieldConnect.
Mobile Integrated Applications
FieldConnect has developed a unique ecosystem of applications. Each of these applications has native integration capacities with Vista by Viewpoint. This integration produces a powerful combination of mobile resources with the insights and efficiency of seamlessly integrating with your existing ERP/accounting system. 
Inspections workflow
Elevate your workflows with functionality designed for inspections. Our applications come fully equipped with the following features: 
Functionality for site equipment and serviceable items

Assign a task for multiple job items—with native associations to your work orders in Vista

Compliance for inspection with enforcement

Configure workflows with controls installed to ensure process flows are completed
Work orders for projects and jobs
Take your work orders to the next level with specifications for various projects or jobs. Utilize the following features to ensure efficient and accurate work orders: 
Costing for project and phase codes

Resources Scheduling 
Work orders for equipment costing
Generate work orders for capital equipment or internal assets. 
FieldProject application
Integrate our FieldProject application's capacities with the Vista PM Module for accelerated project status and detailed reporting. Our FieldProject solution is a refined mobility tool that allows you to quickly collect the data required for your projects. 
Combined with the integration to the Vista PM module, you can look forward to the following features: 
Project and phase time entry

Job costing

Equipment usage and costing

Phase progress

Daily logs

Inventory and materials

Hybrid user interface (UI) for service and project
Timesheet
Amplify your ability to keep timesheets with the added benefit of reviewing and approving the process. Our solutions also offer you the capacity to consolidate service and project time entries, including unapplied time. 
FieldQuotes application 
Our FieldQuotes application takes native integration with Vista a step further. You can generate quotes on the spot and convert each into a work order in Vista. 
Customer portal
The customer portal we offer distinguishes us from the competition. It provides you a personalized and efficient way to access your account and numerous features. Gain visibility into real-time work order status or request new service. 
But our customer portal is even more dynamic. The portal also has the following features: 
Access service and equipment history

Forms

Attachments

Invoices

Quotes
Attachment and document management
Our ecosystem of integrated applications also has a rich set of features for managing attachments and documents, including thumbnail views for technicians. 
Work orders/scheduling permissions
Utilize our innovative applications to empower your technicians with the ability to create new work orders and schedule permissions. 
Integrated Service and Project Modules
In addition to our ecosystem of mobile applications, FieldConnect offers a series of service and project modules. These modules also offer native and seamless integration with Vista by Viewpoint. Transform your productivity by extending the power of your Vista Service Management Module. 
Reads and writes
Our service and project modules go beyond simply syncing your data. You gain the ability to perform real-time reads and writes to your existing Vista database. Even further, Field connect provides Source of Record Integrity. 
Device Agnostic Applications
You no longer have to worry about compatibility issues. Our applications work across all hardware platforms and operating systems—including iOS, Android, Windows, smartphones, tablets, or laptops. We know how critical it is to have consistent access to your data without worrying about the device you're using or whether you have connectivity.
Offline technology
You will no longer be reliant on an internet connection to access your data. FieldConnect applications employ offline technology—keeping your data accessible in a disconnected mode. 
Our offline feature offers the same user interface (UI) experience, content, and performance. FieldConnect applications will immediately sync and upload all data when you return to connected mode. 
 Real-time data
FieldConnect allows you to log in with any device without worrying about data or applications being stored locally on the device. This capability provides access to real-time data without reliance on batch syncing schedules. 
Forms Engine
FieldConnect distinguishes itself from the competitors by providing a superior platform for customizable forms. 
Structured Query Language (SQL) database
With our forms engine, you can enter data in a SQL database for reporting. Forms are saved as embedded attachments to work orders in your existing Vista platform. 
Busines Rules framework
FieldConnect's forms engine allows you to configure a proper framework for Business Rules, including the following dynamic capabilities: 
Enforcement

Offline use

Mapping and compliance

Validation

Logic
The forms solution also includes an HTML forms builder and editor. 
FieldGateway and Front-End Graphical Dispatch Board
We also set ourselves apart with the FieldGateway solution. You gain a front-end graphical dispatch board with unlimited licensing for dispatchers, administrators, supervisors, and back-office roles. 
Cloud-Based Solutions
FieldConnect is proud to utilize the most critical resources available in the modern technological environment. Cloud-based solutions are a vital and necessary resource for your business to excel and succeed over the competition. 
This offering is fully hosted and managed by FieldConnect in the Microsoft Azure Cloud at no additional cost to you. Even more, there are no IT resources or bandwidth required for your organization to utilize our powerful cloud-based resources.  
Viewpoint Strategic Partner 
FieldConnect understands how vital strategic partnerships are to your success. We distinguish ourselves by partnering with the most advanced and trusted brands. And we pride ourselves on extending the native functionality of Viewpoint solutions. 
Our partnership with Viewpoint offers you a unique opportunity to enhance your service to clients. Viewpoint chooses to partner with us because we deliver best-in-class solutions with seamless integration. This collaboration allows us to tap into a vast set of experience, knowledge base, and best practice—with more than a hundred implementations with Vista by Viewpoint.     
Offer your Vista customers a superior mobile field service solution by using FieldConnect to elevate your success.
Experience the Difference 
Since 2002, FieldConnect has provided mobile solutions designed around the needs of field service organizations. We have led the industry of software solutions for Mobile Field Service providers with a powerful and easy-to-use solution for service organizations of all sizes. 
For nearly two decades, we have been refining the way we stand out from the competition. Our extensive suite of software solutions can also help you. FieldConnect will support you in forging a distinct advantage and competitive edge. 
We are ready to share the FieldConnect difference with you. Request a demo today.